Sometimes you may notice some mp3 files have a lot lower sound volume than they should have and you probably tried fix the problem with easymp3gain but it didn't work. I myself had this problem for 2 years but finally I found a way to fix it, so I decided to share it, as I always do with problems I have found a way to fix.
1. Download Winamp:
https://download.nullsoft.com/winamp/client/winamp58_3660_beta_full_en-us.exe
2. Either install it with Wine OR (if Wine returns an error) open the exe file with any archive manager (like file-roller, for instace) and extract the whole content of the exe to a folder of your choice. Make sure the folder is empty (just in case).
3. Run winamp.exe.
4. Locate, drag and drop onto Winamp's playlist window each of the mp3 files with volume problem.
5. If the files are too many, use Ctrl+A to select them all.
6. Right click on the files and select "view file info". Or you can use Alt+3, if you like. This will open the file info dialog for the first file of the playlist. Go to tab APEv2 and click on the only checkbox you'll see to disable the APEv2 tag in the mp3 file, then click OK. When you click OK, that dialog will go away and Winamp will open another dialog for the next file. And then for the next, for the next, for the next - until you clear all the files of that APEv2 tag.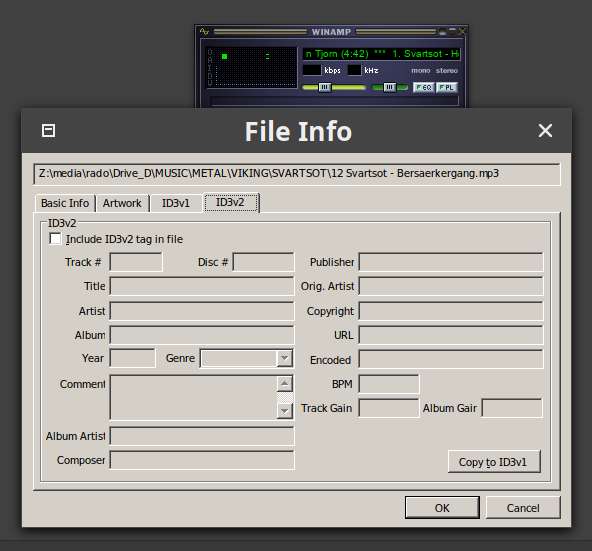 7. When you finish doing that for all the files, go to Audacious (or whatever audio player you're using) and run each playlist that contains this file. I use PLS format for playlists but yours might be different. Yes, I'm talking about the list of tracks, not of the tracks themselves. So, open the playlists in Audacious and then press F5 for each playlist in order to refresh it. Thus Audacious will read the files anew and will know they don't contain APEv2 tags anymore. With this the normal volume levels will return and your problem is solved.
Enjoy your music.