Ok, I'm looking for a new monitor.
The Vizio 27 inch T.V. works but there are performance issues during fresh installations.
This Gigabyte G27F 27" Full HD 1920 x 1080 165Hz Native Gaming is what I'm looking at.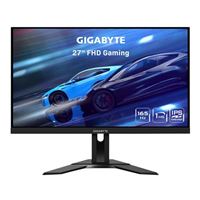 Get it now! As an unseen player, the monitor is often underestimated. The truth is monitors form a synergistic effect and brings out the best performance of PC components.

www.microcenter.com
Here's links/specs to my GPU:
AMD Cape Verde, 800 MHz, 512 Cores, 32 TMUs, 16 ROPs, 1024 MB GDDR5, 1125 MHz, 128 bit
www.techpowerup.com
AMD has announced a new version of the HD 7750 GPU which features faster clock speed of 900MHz and a better PCB design over the previous model.
wccftech.com
That monitor has 2 HDMI ports but they are 2.0 and my Radeon 7750 Cape Verde Pro has 1 HDMI 1.4a.
Will a HDMI 2.0 cable work the HDMI 1.4a on the GPU?
Last edited: